The final collection of donations in Eldora's company restaurants has just been completed: thank you to everyone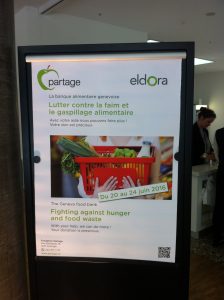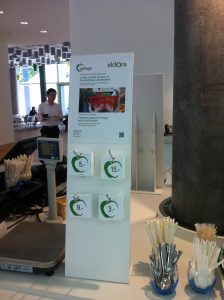 Depuis 4 ans, Partage a développé un partenariat avec la société Eldora S.A. qui gère de nombreux restaurants d'entreprises dans toute la Suisse. En collaboration directe avec les responsables de 10 restaurants d'entreprises et des institutions internationales ainsi qu'avec les représentants des entreprises à Genève, Partage organise deux fois par an, en juin et en décembre, une collecte d'argent auprès de leurs clients afin d'optimiser la distribution des denrées auprès des associations et des services sociaux. Cette aide précieuse apporte à Partage un soutien financier et une visibilité indispensable auprès des grandes entreprises et de leurs collaborateurs.
Une grand merci pour leur engagement à Eldora et à : BIBC Blandonnet, Caran d'Ache, CGHH, Dupont de Nemours, Hôtel des Finances, OMPI, ONU, SIG, UNHCR et TCS.
Pierre Veyrat, responsable du Groupe Qualité chez Eldora SA et Marc Nobs, directeur de Partage en parlent : https://youtu.be/b9RQVOaSUDk